Double-fried chicken is the latest thing in fast food. This cooking method is very popular in Korea and New York, for chicken cooked this way is said to be healthier than the breaded type of fried chicken.
The main difference between the double-fried chicken among other crispy fried chicken is the lack of breading. Frying the chicken pieces twice makes the skin crispier and melts the fat.  The double fried chicken technique is said to be more healthier as compared to cooking the chicken the traditional way. After frying, the chicken pieces are then brushed with a special sauce, usually with garlic infused soy sauce or a chili sauce, to add more flavor.
The food craze has found its way to the Philippines and many stores were put up to satisfy cravings of Filipinos for fried chicken. One of the leading double fried chicken restaurants in the country is Chicken Charlie.
Good thing Chicken Charlie opened a branch here in Cebu, thus allowing us to sample this new "breed" of fried Chicken.
Chicken Charlie Drum Part
Chicken Charlie Food Review
It would be very hard not to compare Chicken Charlie to true and tested favorites Chicken Joy of Jollibee and KFC's Hot and Crispy chicken.
The price of Chicken Charlie's combo meals are almost at the same price range of Jollibee's and KFC's. The price of their Combo A, consisting of 1 piece drumstick, rice and a glass of regular iced tea is 83 Pesos.  Extra rice cost 15 pesos compared to 17 pesos in Jollibee and Kfc.
Just take note that Chicken Charlie only serves the wing and Drumstick parts in their menu.
For budget lovers and students you can try out their Charlie's Bowl for only 59 Pesos. Just add 15 pesos for a glass of iced tea.
 Chicken Charlie Combo Meals Menu
Since they specialize in fried chicken, expect Chicken Charlie to have a limited variety of foods. Aside form chicken, they have fish and chips, salad, rice toppings, and cheese sticks.
Hope they would come up sa future ng pasta dishes.
Chicken Charlie Prices
For desserts, they have the Charlie's Pops, popsicles with flavors like Green Apple Yakult Pops and Mango Orange Pops.
Chicken Charlie has 2 variants for their double fried chicken. First is the one cooked in Soy Garlic Sauce, and the other one with Hot Sweet Sauce.
I ordered their Combo C meal consisting of 3 pieces of chicken wings, rice and a glass of iced tea. The staff was kind enough to give me 2 pieces of soy garlic chicken and one infused with the hot sweet sauce. Chicken pieces with toothpicks are those with Hot Spicy sauce.
The chicken was tasty, no need for gravy, but you can always put on more hot sauce for more zest.
Chicken Charlie Chicken Wings
I was expecting that their chicken would taste and look like Buffalo wings, but hindi pala, these wings are not smothered in sauce. At first medyo hindi ako solved sa skin, parang ordinary lang, but nalaman ko later na Chicken Charlie does not use breading mix for their chicken to make the skin crispy( based on the television show na Pop Talk), ayun nag iba ang aking pananaw.
Chicken Charlie Dynamite Cheese Sticks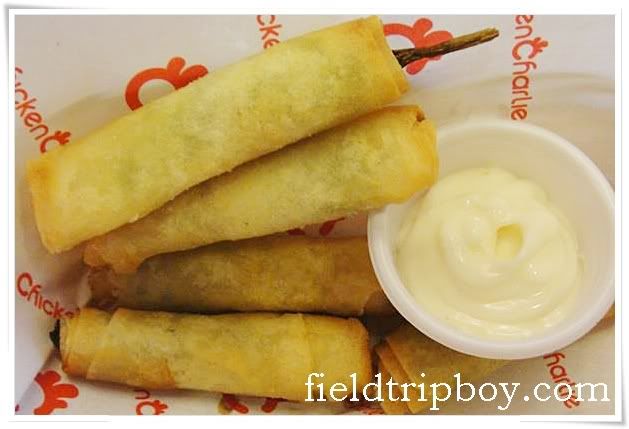 For the taste, I like the Hot and Spicy variety better. Medyo mild lang ang spiciness nya.
We also ordered their Cheese Stick Dynamite for 85 pesos (5 pieces). Nakaka curious ito because it is made from chili (siling pang sinigang) filled with cheese then wrapped in wanton wrapper.
Cross Section of the Dynamite Cheese Stick
Their red iced tea is good. If you ordered a combo meal, you just need to add 10 pesos to upsize it.
Chicken Charlie Red Iced Tea
Sorry for sounding a probinsyano, but this is the first time I've encountered this high tech gadget. Wala kasi ang Jolibee nito. hehehe  😆
Cool Looking Disk
After ordering, the cashier will give you an electronic disk that will light up and vibrate once your order is ready for pick up at the counter. Cool!!!!
Where is the Chicken Charlie Branch  in Cebu?
The branch of Chicken Charlie in Cebu is located at the eBlock 2, Asiatown IT Park in Lahug, Cebu. Just ask around, for the place is a block away from The Walk.
Hope to be back here to taste more of their offerings especially their frozen desserts , salad and the Bundaderg Sarsaparilla (rootbeer) and Ginger Ale that they are selling.
How about you, have you tried eating at Chicken Charlie? Place your comments below so we can read your Chicken Charlie experience….
Like Field Trip Boy to get the latest food finds and travel adventures in the Philippines.
Please Share and Tweet this Food Blog entry. Thanks.