Espadrilles has made a come back. For over a year now, espadrilles have become the rage for both young and the young at heart. They come in all sorts of prints and colors. Light and comfortable to use, they are definitely a field tripper must have. You can even easily bring an extra pair with you during your travels, just fold them up properly and place it in your bag.
Espadrilles Designs
Espadrilles are sold almost everywhere, from bazaars, boutiques, and malls. You can also look for espadrilles online. But being a field tripper, I suggest you go directly to the source of these fashionable footwear rather than buying them online. For one, you will save a lot of money. Online stores, sells espadrilles with almost 100% mark up, plus shipping fee, so a pair would usually cost you around 750 to 1,000 bucks, while if you go straight to the manufacturers, your 1000 pesos could fetch you not only a pair, but you could end up having 3 pairs of espadrilles instead. The towns of Liliw and Carcar are well known producers of espadrilles, so don't be bothered going all the way to these places for surely you'll be in for a treat. Both towns have great sceneries too so don't worry about the distance and the transportation cost, for you'll be getting more than you're money's worth.
Liliw made Espadrille Wedge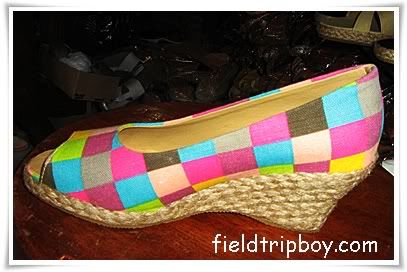 For those living in Manila and nearby provinces, go to the town of Liliw, Laguna and head out to Gat Tayaw St, where most of the shops are located. Liliw made footwear are known for quality and style and of course their price. Best sellers are espadrilles with abaca for they look great during summer. There are even espadrilles with ribbons and some are made to look like wedges. A pair of lady's espadrilles usually cost around 350, while espadrilles for men are around 400. I suggest you visit the shops of Aishe and Monedo's for the last time I was there both manufacturers have great designs and a lot of stocks for you to choose from.
Liliw Espadrilles with Abaca
For those in the Visayas Region, try visiting Carcar,Cebu. Like in Liliw, prices of espadrilles in Carcar start at around 350 pesos for a pair. They don't have abaca espadrilles there but they have crocheted espadrilles instead. They are unique looking and very colorful so you could easily stand out among other espadrille enthusiasts. Just take a bus from the Cebu South Bus Terminal and tell the bus conductor to drop you at Acacia Grill compound, where most of the espadrille shops are located.
Carcar Crochet Espadrilles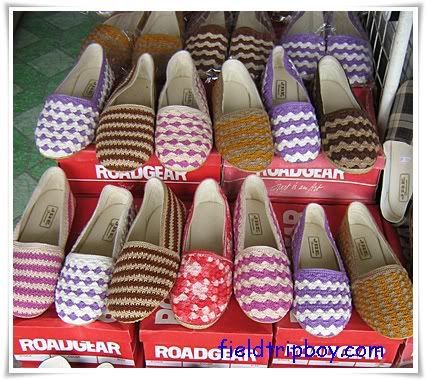 To read more about the town of Liliw, and see more pics please click HERE