What is the difference between Ice Cream and Gelato? Gelato or Gelati is an ancient Italian frozen dessert. Ice Cream is a modern variant of the Gelato. Both are made out of the same materials such as milk, cream, sugar, nuts and fruits. The main difference between a Gelato and Ice cream is their butterfat content. Most gelato has a butterfat content of 4-8 % while most commercial ice creams have 14% butterfat. Gelato on the other hand has a higher sugar content. Gelato can only be stored for a few days, while many ice creams can be frozen for many months.
 Gelatissimo in SM City Cebu
Gelato has been making raves as of late. It has become a world wide phenomenon, being marketed as a healthier version of the ice cream, and can be bought not only in Italy but in most parts of the world like in the famous Paciugo in America to many beautiful Gelateria in the Philippines. Yup, we can now have a taste of Italy here in the Philippines.
Different Gelato Flavors in Gelatissimo
 Here in the Cebu, one particular Gelateria or gelato store has caught my attention. Its name is Gelatissimo. It has branches in SM Cebu and Ayala Center Cebu. I think they also have some stores in Metro Manila.
Colorful Spoons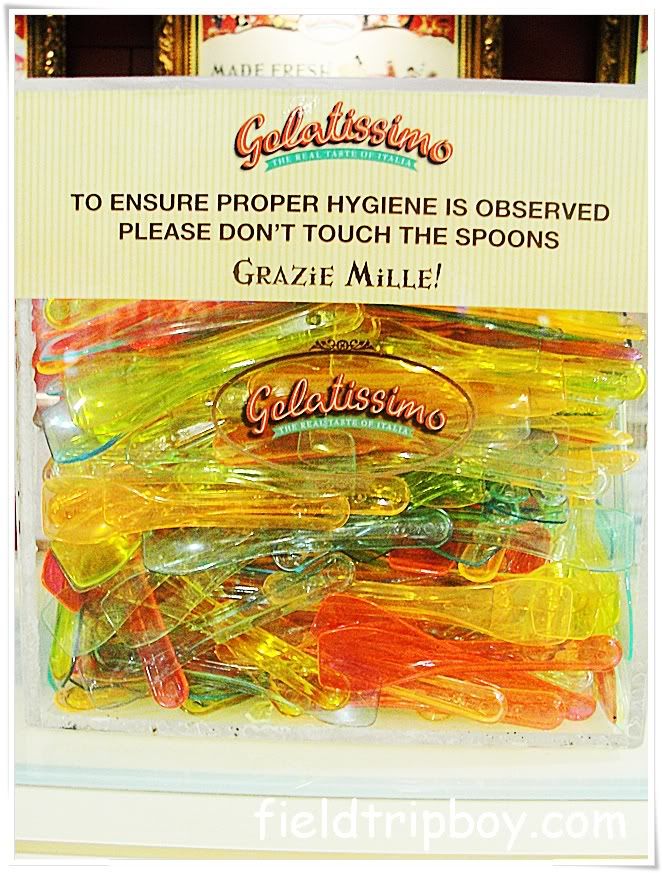 I first tasted their fresh gelato when my brother visited me here inCebu. He asked me to go with him in Ayala Center Cebu because he is craving for Gelatissimo's gelato. He first tasted it a few years back, when he made a business trip with some of his officemates here inCebu. My latest visit in Gelatissimo was with Cecille. Cecille is a fan of frozen yogurt, and I told her that she might want to try gelato for a change. They have this Mango Tango theme during our visit, so many gelato are flavored with mango and mango combinations.
 Exotic Mango Flavored Gelato
Gelatissimo has good looking stores, displaying lots and lots of flavored gelato. If you cannot decide what flavors to order, the staff might suggest some or you could ask for a free taste using their colorful plastic spoons. Flavors can range from the classics like chocolate, pistachio, and strawberry to some daring flavors like their best seller Chili Chocolate, to Rum and Raisins.
 Gelato with Macademia and Caramel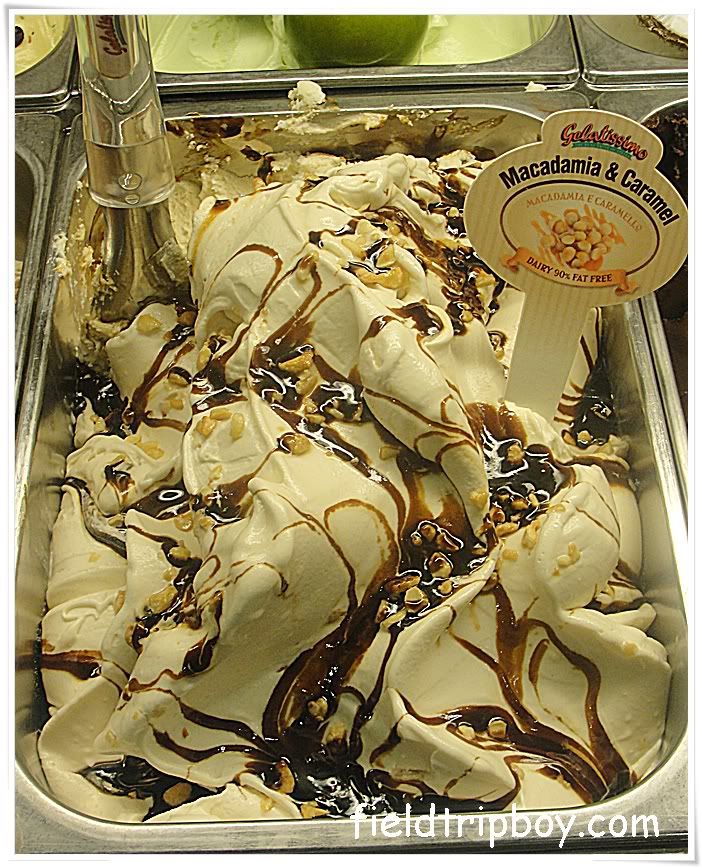 Prices of gelato in Gelatissimo are 90 pesos for 1 scoop of gelato, 150 for 2 scoops,180 for 3 scoops. Their stores made fresh gelato on a daily basis.
Please Like Field Trip Boy on Facebook to get more yummy food finds in Cebu!!  😉