Since there are a lot of must collect cars in the Hot Wheels brand of die cast toys, I just have to make my choices short for I don't have that much funds for buying all the cool looking and rare Hot Wheels cars around.
I want to focus more on Ferrari, Lamborghini, Bat Mobiles and TV and movie cars. As of late, I only bagged 2 movie cars. One of which was the Back to the Future Time Machine and this one: the Dodge Challenger used in the movie Green Lantern.
Hot Wheels Green Lantern '71 Dodge Challenger
Green Lantern's Orange Car
What was Hall Jordan thinking, an orange car for the greatest Green Lantern ever?
Well for one, the car was used by Hal (played by Ryan Reynolds) before he encountered Abin Sur, the Green Lantern of Sector 2814. Abin Sur was mortally wounded from a fight with Parallax and crash landed on Earth. He then ordered his ring to find a suitable replacement for him and the ring found the man without fear, Captain Hal Jordan himself.
In the movie, Hal used an orange 1971 Dodge Challenger. It was a nice choice for it was one of the best muscle car that can handle the needs of "Man without Fear".
Hot Wheels 2011 Series: Dodge Challenger
The 71' Dodge Challenger belongs to the first generation of Challengers that shares some features with the Plymouth Barracuda. It was built primary as a main competitor for the Ford Mustang and the Chevrolet Camaro.
All 3 brands, the Challenger, Mustang and Camaro are classified as Pony Cars.  They are called as such for they are affordable and compact yet looks sporty and packs a lot of muscle.
For the Hot Wheels collections, the 71 Dodge Challenger first appeared in the 2011 series.  There were 3 colors for the new model: Green, Purple and Orange (Green Lantern).
Green Lantern's Orange Car
Since I'm a bit of a comic fan, it is a must to grab at least one of the 71' Dodge Challenger Green Lantern Hot Wheel car.
Green Lantern Trivia
The color orange represents the emotion Avarice. Due to greed and the unwillingness to share, there is only one member of the Orange Lantern Corp, Agent Orange himself, Larfleeze.
Agent Orange: I want all your Hot Wheels!!!! Mine,Mine Mine…..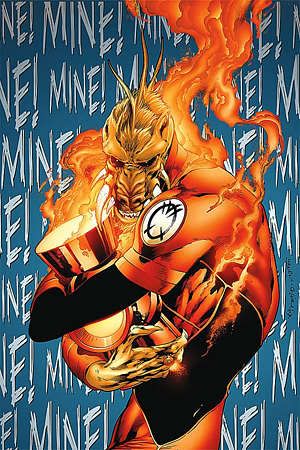 photo credits: Wikipedia
Right now the orange in me says it is time to say goodbye for I am still on the hunt for more cool looking, in demand, Treasure Hunts and rare Hot Wheel die cast cars. Still on top of the list of my must have HW cars are Ecto-1 of the Ghost Busters, the A Team Van and KITT of the Knight Rider fame. Hehehe.
For more featured Hot Wheel cars from my collection and other interesting topics, please join me on my Facebook page at Field Trip Boy.
Please Like and Share!!!! Happy hunting to all of us!!