In a world where consumerism rules, people would only buy products that they thinks is the best, made with the finest materials and are really worth their hard earned money.
But in the case of Hot Wheels collecting, this is the opposite.  Hot Wheels collectors and hobbyist does not only hunt for Treasure Hunts and rare or hard to find (HTF) cars, they are also looking for die cast cars with defects on them. Yes Field Trippers, the more damaged or distorted the Hot Wheels die cast car, the higher its collection value.
The reason for these is probably the high standards of  Mattel's (makers of Hot Wheels and Match Box) quality control  that it would take a very little percentage of damaged cars to reach the store's shelves. There are some talks that Mattel intentionally releases a small number of "damaged" or altered cars for collectors to find.
If you see a Hot Wheel car still in the shelf complete with its packaging but have some missing parts such as a wheel, wind shield  a window or has extra or broken parts, better grab it fast for these are hard to find items that you can trade or sell for a higher price.
Hot Wheels Packaging Errors
But not all errors are found in the cars it self. Some of the most common Hot Wheels production errors came in the form of packaging. Problem with these are, once the cars are set loose, the packaging error will cease to exist.
Packaging errors can come in these forms:
Cars being glued on a different card (most common form of packaging error)
Other items aside from the car inside the blister
Backward cars
Upside down cars
Hot Wheels Upside Down Car
This is my first Hot Wheels error car. It is a '59 Chevy Impala that belongs to the 2001 Monster Series.
Upside Down '59 Chevy Impala
The first thing I did when I saw this car was to shake it violently to see if the car would flip over and would revert to its usual position. It did not flip over so I have to check the packaging and blister for any damage or signs that it was opened. The card and blister looks good and has no signs of tampering making this piece a legit Hot Wheels upside down car.
View From the Bottom of the Card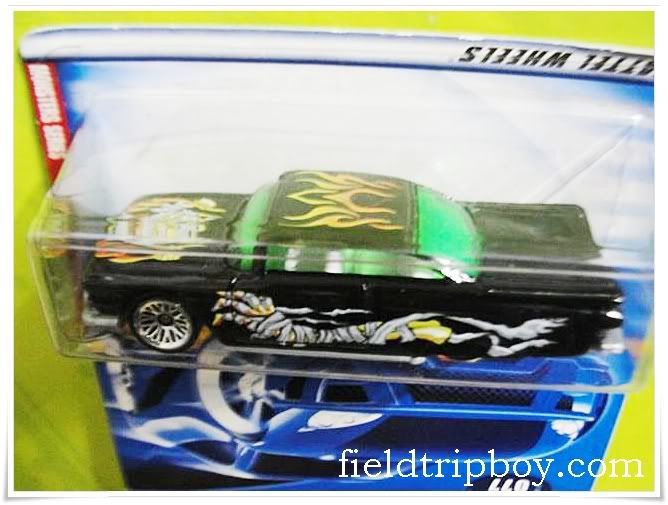 Closer look at the Hot Wheels 59 Chevy Impala 2001 Monster Series
This car looks cool. It has cool looking  tampos that is great for the coming  Halloween. On the hood is a picture of a mummy while the sides show a mummified arm complete with wraps. On the roof are red, orange and white flames. Wind shield and glass are tinted green.
Side View of the Chevy Impala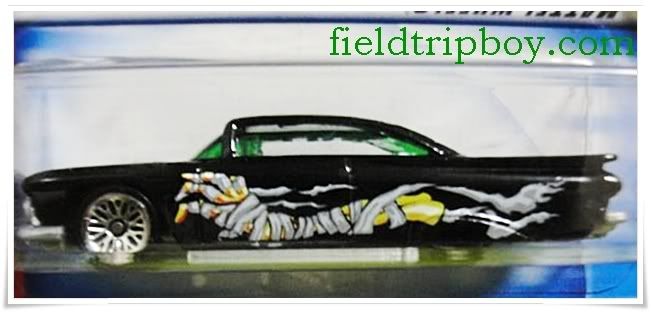 59 Chevy Impala Trivia
The' 59 Chevy Impala has its last Hot Wheels' production run on 2002.
.
For more pictures and stories about my Hot Wheels car collection, please join me on my Facebook page at Field Trip Boy!!
Please Share!!!! Happy collecting….