So fellow field trippers, if you're looking for a grand adventure, you might consider going to Sagada for it has loads of tourist sites and eco adventure for you to enjoy and experience. Here is a list of thing to do and see when you're Sagada. This mountain town is the mother load of all adventures. Visit this place before it becomes too crowded and too commercialized. This is the ultimate fieldtrip destination outside Metro Manila if not in the whole Philippines!
In Sagada, the local tourist guides encourage their visitors to go on foot. Hiking is the best way to enjoy the countryside, see beautiful tourist spots and ancient rice terraces. In some places, hiking is the only way to reach your destination such as in EchoValley and going down to Bomod-ok Falls. But if you don't want to walk, you can ask your Sagada guide to provide transports to areas accessible to vehicles like Lake Danum and to the entrance of Sumaguing Cave.
Here are the things you should do and see when in Sagada, Mt Province
Go to Echo Valley
On your way toEchoValley, you will pass the famous Our Lady of St. Mary's Church and also the town's cemetery. Like the name suggests, you can scream on top of your lungs inEchoValleyand hear echoes of your self. At the other side of the valley lie the hanging coffins of the Igorot.
Echo Valley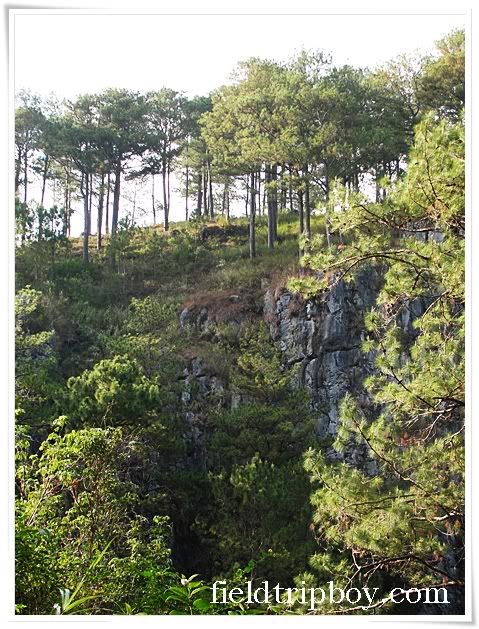 Wake up early and see the Kiltepan Sunrise
Heaven on Earth! One of the best experiences you'll ever get to see and experience in Sagada is getting a good view of the Kiltepan sunrise on a clear morning. We were lucky to see this wonderful Kiltepan Sunrise because we were told that some tourist never had the chance to see this awesome sight because of lots of rain clouds. Best go during the summer months to see this wonderful Sagada tourist attraction.
Kiltepan Sunrise
Orange picking at the Rock Inn Farm
It's not every day for one to go to his back yard and pick oranges, so when in Sagada, better ask your tour guide to take you on an orange picking adventure at the Rock Inn hotel and resturant. It is best to go to the Rock Inn after your Kiltepan Sunrise viewing. One kilo of orange is only 30 pesos. Rock Inn also serves tasty breakfast and is also a venue for campfires during special Igorot celebrations.
Rock Inn Orange Picking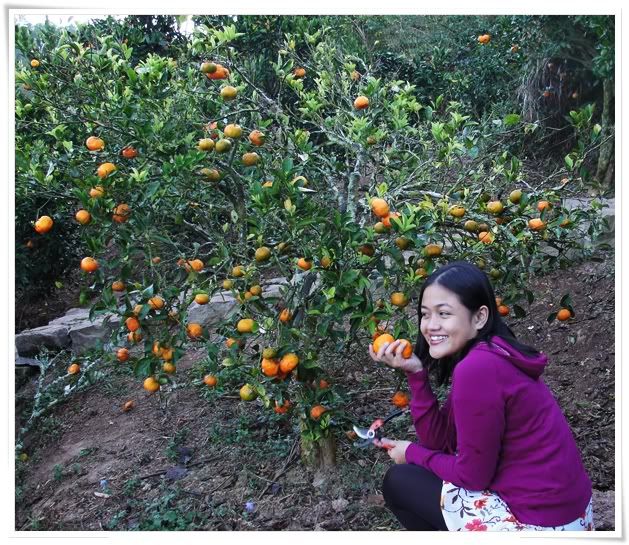 Try doing Sagada pottery or weaving
Besides agriculture, pottery and weaving is two of the major industries in the municipality, you could either try your skills in the potter's wheel or weave your masterpiece using traditional methods. Pottery items like plates and vases as well as weaved items like mats and bags are must have Sagada souvenir items and Pasalubong.
Sagada Pottery
Shopping for souvenirs
Buy a shirt saying "I survived Sumaguing Cave" or buy traditionally woven bags for your love ones back home. You could also bring home with you some locally made wine and other fruit preserves. Cecille bought a green hand woven bag and a Sagada T shirt. We also bought cell phone pouches for Pasalubong.
Sagada Pasalubong
 Eat,eat,eat
Sagada has plenty of restaurants that serve good food. Try the Granola yogurt at Yogurt House, or sample lemon pie and mountain tea at the Lemon Pie House (Yellow House). St. Joe's Café, the restaurant in St. Joseph's Rest House also serves great food. A lot of Sagada restaurants serve good food at affordable prices. You'll notice that the pork here looks and taste a bit different for they use pigs grown the traditional and organic way. Vegetables are very fresh, good for salads and side dishes.
Yogurt House's Granola Bar Yogurt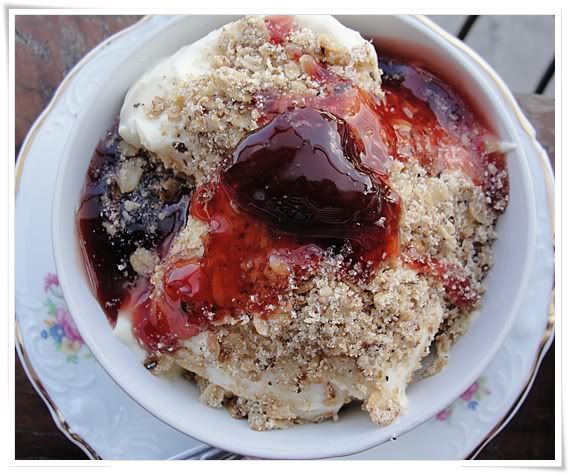 Stop and smell the flowers
The mountains of Sagada bring to you a whole new world of exotic plants and animals. During your hikes, it is best to stop and look around for some unusual plant and animal life. You might be lucky to find some edible berries or colorful flowers and unusual plants like the pitcher plant, which are not commonly found in the city. Some wild flowers grows on the side of the road or grown in the garden of your Sagada hotel, but the best way to see these flowers and plants in their natural habitat is when you go on trekking the top of Mt. Ampacao.
Everlasting Flower
Spelunking at Sumaguing Cave
Sagada has 3 main caves to explore. With different rock formations to look out and discover, this is truly a must have experience for all tourists. Sumaguing cave is the most popular cave because it is easy to explore and has lots of beautiful rock formations like the Queen of the Cave, King of the Cave, the Elephant, the Snake and the King's Curtain. But you could also try and navigate all 3 caves for they are connected with each other.
 Sumaguing Cave " Turtle" Rock Formation
Mountain trekking at Mt.Ampacao and Sunset at Lake Danum
Go trekking inMt.Ampacaoand see the whole town of Sagada. For those not accustomed in walking long distances, better ask your guide to provide you with a make shift walking stick. There are a lot of pine tree forests in Mt. Ampacao. Continue the trek to Lake Danum and witness wood peckers building their nests or have a glimpse of Mt. Ampacao mushroom along the way. You could even lucky enough to sample the local berries like blueberries and pinit or native strawberries and replenish your lost energy.
Lake Danum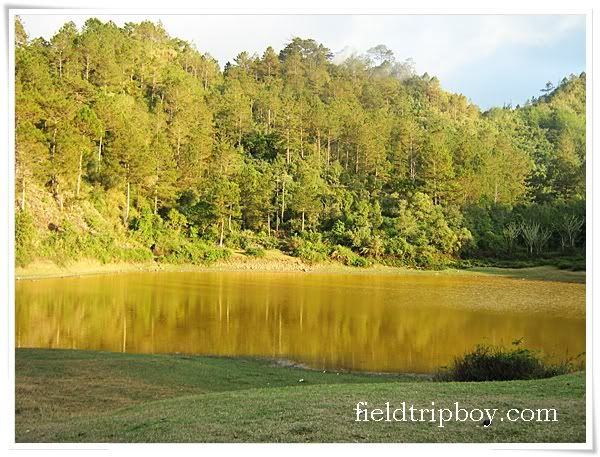 Swimming in Bumod-ok Falls
You will walk 3 kms of rice paddies in order to reach Bumod-ok falls, but this is the easy part, for going back up is a bit of a challenge, but don't despair because  you can refill your water bottles with fresh spring water along the way. Plus you'll get to swim at the pool of icy water at the Bomod-ok fall's pool. You will also pass some Igorot villages and get to rest in their version of a barangay hall.
Bumod-ok Falls
There are a lot of Sagada tour packages available in the internet, but most these packages only include a 2 day trip in Sagada, a back and forth transportation package and shared accommodation in one of Sagada's hotels. This is one of the cheapest ways to go , explore and enjoy Sagada and it is possible for you to do this on a weekend.
But if you truly want enjoy Sagada, you must invest a little more time and money and stay in Sagada for 3 to 5 days. For budget travelers, you can hook up with other small groups so that you can divide individually your tour guide's fee. You can also opt to stay in budget friendly hotels like George Guest House or eat at carenderias located at the town's public market instead of those more expensive Sagada restaurants and bars.
Tara na… Lets go now to Sagada !!!!
Please LIKE Field Trip Boy on Facebook and see more Philippine Adventures and Food Trips.
Share and Tweet to your friends this Philippine Travel Blog!!! Thanks for reading.