Metro Manila is a bustling mega city filled with places that are rich in history and culture. Some places in Metro Manila still has green scenery, enabling city goers to breath some fresh air without leaving the metro. Here are some famous and must see fieldtrip places and tourist destinations in Metro Manila.
Luneta  Park is the burial site for the nation's National Hero, Dr. Jose Rizal. For many years, Luneta or Rizal Park has been drawing tourists because of its beautiful sunsets and wide open spaces. Families could make out a picnic under the sun. Lately, Luneta Park has made some upgrades such as the Light and Fountain Show and the renovation of the Philippine Relief map.
Jose Rizal Monument in Rizal Park, Manila
Intramuros and Fort Santiago
Intramuros is just a few blocks away from Luneta Park. There are many Colonial buildings and houses that still stands today inside the walled city. For those who want to learn more about history and religion, it is advised to go to San Agustin Church, where you can find the remains of Juan Miguel de Legaspi. San Agustin Church also has a museum that houses some important religious relics, art works and artifacts. The Manila Cathedral is also located in Intramuros.
Fort Santiago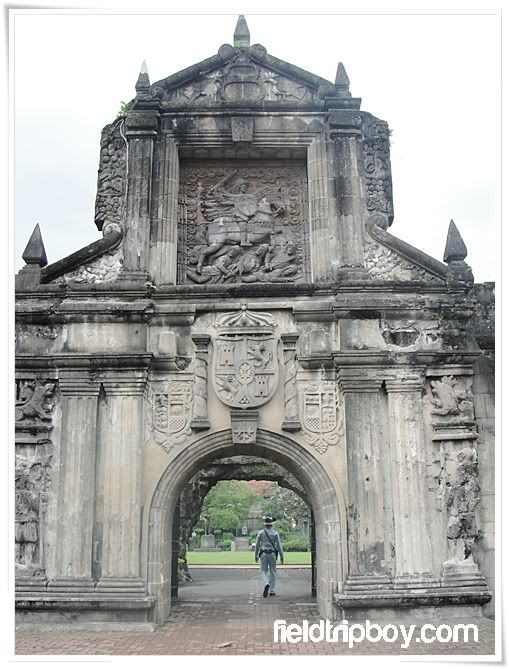 The most popular display in the National Museum is Juan Luna's Spolarium. Also inside the National Museum are valuable artifacts dating from the Pre-Spanish area and many antiques found in shipwrecks and important artifacts from various tribes across the Philippine ssuch as mummies from Benguet to various musical instruments from Mindanao.
The Manila Ocean Park is a world class facility for the enjoyment of the whole family. Guests are treated with a view of how it is to live under the sea. They have lots fishes on display such as string rays, different types of tropical fish, and some species of sharks. There is also an animal and laser show in an outdoor auditorium.
The Ayala Museum is located in the heart of the shopping district of Makati. It is housed in the Greenbeltcomplex of theAyalaCenter. The Ayala Museum has lots of dioramas showing what it is like during different era's in the Philippines history such as when the time before the Spaniards came and Filipino's were making trade with the Chinese and other foreigners, to the killing of Dr. Jose Rizal in Bagumbayan. The Ayala Museum also has lots of valuable treasures that have been dug up for archeological purposes.
The Manila Zoo still retains its old charm. It is a vast area with lots of trees and picnic grounds. They are trying their best to keep the animals well kept and feed. Favorite attraction is still the African Elephant. The Manila Zoo also serves a  breeding ground and pit stops of many migratory birds that are escaping the cold winter in Siberia and China. Mali the only living elephant in the Philippines is the main attraction in Manila Zoo.
Binondo is also known as Manila Chinatown. If you want to know about the Chinese community in the country, you just have to go to Binondo. You can find lots of Chinese temples and schools in the area, as well as Chinese restaurants and Chinese drugstores selling ancient remedies for all ailments. Near the Binondo area is Divisoria, the shopping haven in the whole Metro Manila.
Manila Chinatown in Binondo, Manila
Check here for more info and pictures of Binondo, the Manila Chinatown.
The Binondo Manila Chinatown Fieldtrip
Ninoy Aquino Parks and Wild life Center
The Ninoy Aquino Parks and Wild Life Center is found in the heart o Quezon City. It serves as a mini zoo and rehabilitation center for captured and injured wild life. The park also has a lagoon that is a perfect location for picnics and photo shoots.
Another favorite eco adventure park in Quezon City is the La Mesa Dam. The La Mesa Dam supplies most of the water for Metro Manila residents. It is a forest reserve, and an eco park where tourist can try canopy walks, Zip lines, and other eco adventure. You can also hire a boat for some canoeing and kayaking.
CCP Complex and Star City
The CCP Complex is a vast area where one could catch something entertaining. In the area are some of the top concert venues such as the Tanghalang Francisco Balagtas and PICC. You can also find the Coconut Palace and the Film Center of the Philippines in the CCP complex. For kids and young at heart, there is Star City, a popular theme park, and lots of bicycles for rent. You could also witness here the famous Manila Bay sunset. Many concerts and events are held in this area.
Metro Manila has lots to offer other than giant malls and shopping arcades. There are still a lot of places in Metro Manila that is worth visiting because of their historical, ecological and cultural values. Try visiting some of the famous tourist spots and be inspired by the history and culture of the Filipino people. Include these famous Manila tourist spots in your educational field trips and historical tours.
Field Trip Boy 2012 update:
The Mind Museum in Taguig
The Mind Museum at Taguig City is the newest museum in Metro Manila.  it is located at the Bonifacio Global City .It is open from 9 Am to 9Pm from Tuesday to Sunday ( Close during Mondays.)
The entrance fee or tickets for the Mind Museum is 600 pesos for adults, 450 pesos for students from private schools and only 150 pesos for the entrance fee of public school students.
Kindly LIKE Field Trip Boy on Facebook.
Please SHARE and TWEET this Manila Fieldtrip and Tourist Attractions travel blog post.