A couple of months ago, Penfires and Field Trip Boy got an invitation from Mr. and Mrs. Ron and Fe Perry to come and visit their little haven in Daan Bantayan in North Cebu.
 The couple owns Virgin Beach Resort, a private beach resort that has a lot of facilities for fun filled picnics, quite vacations, memorable family reunions and team buildings.
 It is also a good thing that they've come up with a promo in Metrodeal Cebu so that we can bring others with us, at discounted rates, for this early summer outing. So armed with an invitation in one hand and a Metro Deal Cebu discount voucher in the other, FTB, Cecille, her mom and sister went to VBR in a sunny Saturday morning to officially kick start the summer of 2012. This is my first time to go this far North so I'm a bit excited.
Hi-way Sign of Virgin Beach Resort
How to go to Virgin Beach Resort
 Virgin Beach Resort is located in the town of Daan Bantayanin northern Cebu. Please take note that Bantayan Island is different from Daan Bantayan town.
 To get there you need to board a bus in Cebu North Bus Terminal bound for Daan Bantayan-Maya-Bagay.
 Going to the Cebu North Bus Terminal from the Mactan International Airport takes 2 rides. First, board the yellow airport Multicab and go down in Marina Mall. From there, board a jeepney bound for SM City Cebu. Tell the driver to drop you in Cebu North Terminal. Here you can find a lot of buses such as, Ceres Liner buses, bound for the northern towns of Cebu. Please remember to board only buses bound for Daan Bantayan via Maya-Bagay route.
Entrace of Virgin Beach Resort
 The trip will take you around 3 hours or a bit more. Fare is 140 pesos for ordinary buses. Getting hungry would not be a problem for the bus stops at a carinderia in Carmen, Cebu for a quick break. You could also buy lots of Cebu's native delicacies and kakanin, such as Budbod Kabog ( Suman using a different kind of cereal) and Pintos ( looks like Tamales), during your stop in the City of Bogo.
 Virgin Beach Resort is just around the border of the towns of Daan Bantayan and Medellin, Cebu. You just have to ask your bus conductor to drop you at the waiting shed of Sitio Suba. There are also a lot of signs along the way telling how far you are from VBR.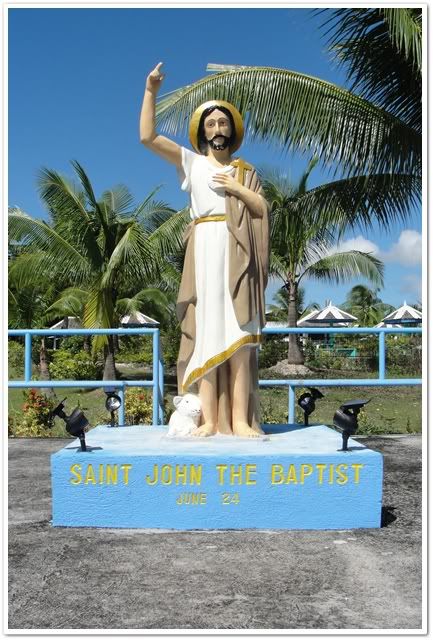 From the waiting shed, you can either call the resort to pick you up for free or ride the habal-habal for 20 pesos per person. The resort is 1.5 kilometers from the high way.
Things to Do in Virgin Beach Resort Cebu
 Virgin Beach Resort has a coral beach. During low tide in the early hours of the morning, you can see a lot of marine life such as star fish, snails and crabs. It is one of the best ways to teach your kids about science and nature.
Early Morning at Virgin Beach Resort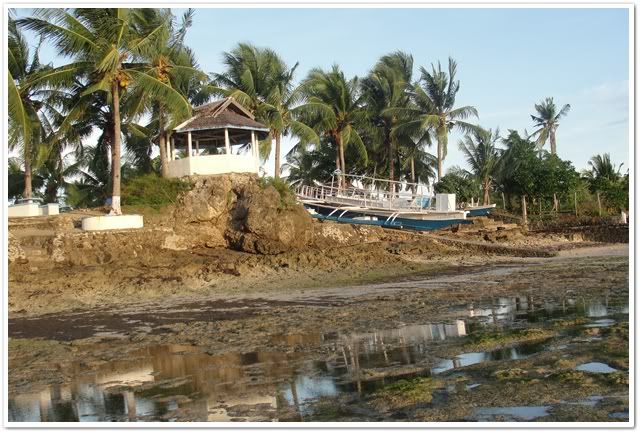 Mid-morning at VBR
 The tide returns around mid morning and the surf is not so deep, making it suitable for kids to play in the beach.
 Aside from the beach, Virgin Beach Resort also boasts a beautiful swimming pool with a water slide. A portion of the pool is a bit shallow and is suited for small kids while the other side is about 4 feet deep and is perfect for your water slide splash.
Water Slide at the Swimming Pool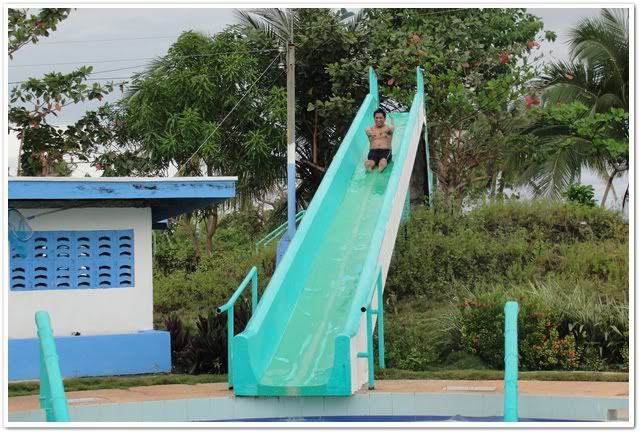 Virgin Beach Resort also has a full basketball court and a full beach volley ball court. They also rent out mountain bikes as well as mini golf equipment. A billiard table sits at the entrance of the main building. You could also try some wall climbing as well as a short ride at the zip line. Boat rides and island hoping are also available per request.
Wall Climbing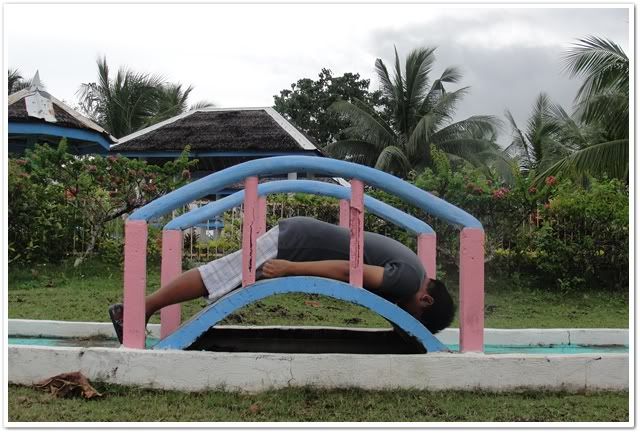 VBR also has a restaurant that serves good native inspired food such as pancit canton, chicken and pork adobo, deep fried calamares and chopsuey. You can have your food served in your cottage, inside the restaurant or even at the pool side. The Metrodeal voucher includes a breakfast consisting of french toasts and coffee, but we exchanged the toasts for steamed rice and ordered and pay extra for our pancit canton, pork adobo and calamares for 150 pesos each.
Pancit Canton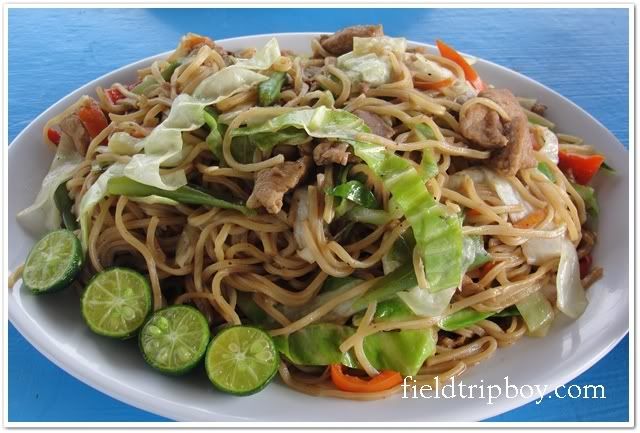 Calamares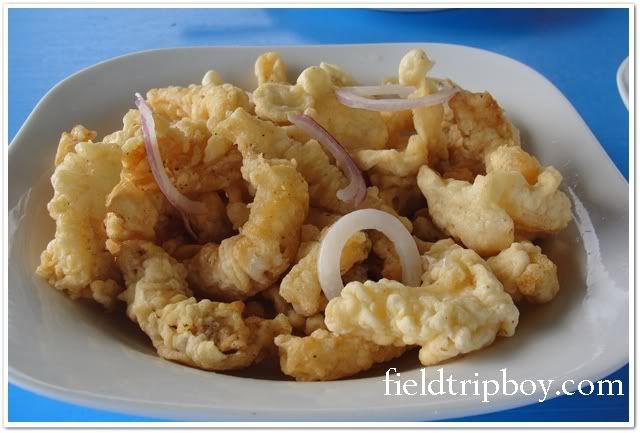 Virgin Beach Resort Hotel, Cottages and Function Room
For those who would want to stay overnight or longer, the resort has a hotel located in their main building. There are also a lot of duplex cottages that can accommodate large groups or families. They also have rooms for a good size barkada or a team of employees. Some cottages are equipped with cooking equipments so that you can cook your own food.
Duplex Cottages
 Virgin Beach Resort also has a big function room perfect for debuts, Christmas parties, family reunions, class reunions, seminars, weddings, baptismals and other social functions.
Inside the Function Room
 The hotel room I've stayed in is clean (you can walk bare foot). Even the comfort room is clean and it has a working water heater installed. A television and a DVD player are also provided. You can borrow some DVDs, books and some mini games in the common room for free.
Virgin

Beach

Resort contact information
For more details about their room rates and other services, please visit their website at:
You can also check out their Facebook fan page at:     Virgin Beach Resort FB fan Page
Or call them at this number:                                                     (0915) 45590 or (0917) 3078341
Please LIKE Field Trip Boy on Facebook. Thanks!!!